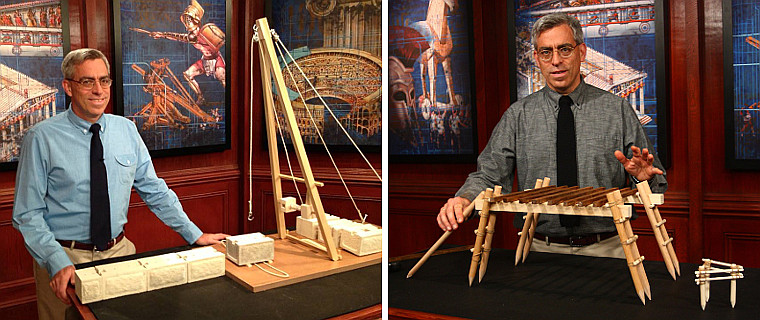 Founded in 1990 as "The Teaching Company", The Great Courses offers video and audio courses in a wide range of fields, such as philosophy, history, literature, science, and music — all designed to meet the diverse educational needs of lifelong learners around the globe. These courses are taught by university professors rigorously selected for intellectual distinction and teaching excellence.
Dr. Ressler has developed four video lecture series for The Great Courses. If you have any questions about these courses or would like to provide feedback, please contact Steve.
COMING SOON: DIY Engineering
"Do-It-Yourself Engineering" is a unique 24-lecture learning experience, consisting of 17 challenging hands-on projects, ranging from ancient catapults to modern flying machines, from a backyard suspension bridge to a wooden mechanical clock–all designed to enhance your understanding of basic math, science, and engineering concepts.  DIY Engineering is currently scheduled for release in the November Great Courses catalog, which will be distributed at the end of October.
Everyday Engineering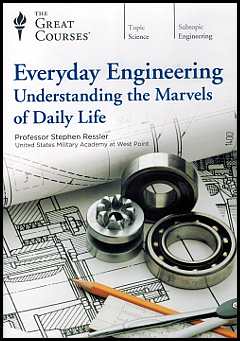 When we think about modern engineering and technology, we tend instinctively to think about sophisticated computing devices and other consumer electronics; about jet aircraft and bullet trains; about robots and lasers. But in many ways, the products of modern engineering that have the most substantial influence on our lives are the ones we almost never think about—the everyday technologies that surround us in our homes and workplaces—the infrastructure systems that have been so beautifully integrated into the fabric of modern civilization that they're practically invisible and are inevitably taken for granted.
In "Everyday Engineering: Understanding the Marvels of Daily Life," you will explore these everyday technologies—residential construction, water supply, electrical power, heating and air-conditioning, telecommunications, waste disposal, automobiles, and transportation infrastructure.  By studying the scientific and engineering concepts underlying these systems, you will be better equipped to appreciate the ingenuity in their design, to employ them optimally, and to recognize the underlying causes of technological failures.
This 36-lecture course can be purchased directly from The Great Courses website.  Individual lectures can be viewed at The Great Courses Plus.
Understanding Greek and Roman Technology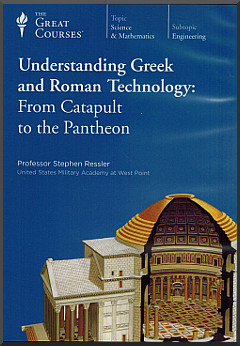 Famed for great thinkers, poets, artists, and leaders, ancient Greece and Rome were also home to some of the most creative engineers who ever lived. Many of their feats have survived; others have disappeared into the mists of time. Modern research is shedding new light on these technological wonders—impressive buildings, infrastructure systems, and machines that were profoundly important in their own day and have had a lasting impact on the development of civilization.
In "Understanding Greek and Roman Technology," you will experience the glories of ancient Greek and Roman engineering—grand structures like the Parthenon, Vitruvius's Basilica at Fano, the great Roman bridge at Narni, the Colosseum, Nero's Domus Aurea, and the Pantheon; infrastructure systems like aqueducts, urban water distribution networks, Roman roads, and vast imperial bath complexes like the Baths of Caracalla; and a wide array of surprisingly sophisticated machines—wagons, construction cranes, water pumps, grain mills, and sailing ships. You will study ancient military technologies like battering rams, siege towers, catapults, and rowed warships. Along the way, you'll learn how these systems were constructed, how they functioned, and how they relate to the broader historical context of ancient technological development. Finally, you will discover the modern legacy of these technologies—manifestations of Classical-era engineering that have now become integral to our daily lives.
This 24-lecture course can be purchased directly from The Great Courses website or from Amazon.com.  Individual lectures can be viewed at The Great Courses Plus.
Understanding the World's Greatest Structures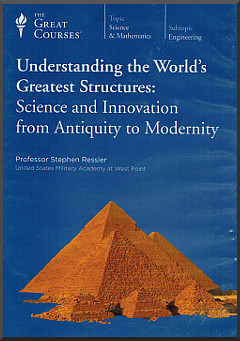 Your world is filled with structures that have stood the test of time…that give character to the cities and landscapes in which they're located…that are visited by millions of people each year…and that capture our wonder for the marvels of engineering innovation and progress. Structural masterpieces like the Giza pyramids, the Pantheon, Brunelleschi's dome, the Brooklyn Bridge, and the Empire State Building were, first and foremost, novel creations born from the most progressive engineering concepts and tools of their day. They represent uniquely effective solutions to perplexing structural challenges. And they serve as landmark moments in the millennia-long history of engineering.
In "Understanding the World's Greatest Structures," you will experience the engineering genius that makes these works possible. This course takes you around the world and reveals the stories behind the most famous bridges, churches, skyscrapers, towers, and other structures from thousands of years of history. These 24 lectures take you on a fascinating and richly illustrated tour that deftly blends history, architecture, science, and engineering to create an unforgettable survey of our world's most remarkable structural masterpieces–an experience informed by the fundamentals of structural engineering and their underlying scientific principles.
This 24-lecture course can be purchased directly from The Great Courses website or from Amazon.com.  Individual lectures can be viewed at The Great Courses Plus.
Testimonials
Bill Gates, founder of Microsoft, reviewed "Understanding the World's Greatest Structures" in his blog, "The Gates Notes."   Here's an excerpt:
I loved this course. Ressler's enthusiasm for the topic comes through in every lecture. He is a great example of the incredible teachers the Teaching Company has found for many of its courses.

~Bill Gates
A few other representative comments:
This course is a solid 10 (not a 9.99) in every dimension. Prof. Ressler's lecture style is engaging and well paced, with a very deliberate and logical progression. He achieves a well-balanced and understandable mix of the science (civil engineering) and its real world application. His visual support materials are outstanding: intricate physical models; illustrative and dynamic 3D computer-generated models; graphical diagrams of key concepts and formulas; highly relevant photos and videos of real structures.

~HHCProf, Fredericksburg, TX
It is hard to describe just how terrific this course is until you watch it and absorb how much information is clearly and well presented here. You will likely never look at a bridge or building the same way again after watching this course and it will give you an understanding of why these structures are built the way they are.

~PBK63, Joplin, MO
This course reminds me of the very best "show and tell" from public school, but on steroids. Dr. Ressler is an outstanding presenter, clearly passionate about the subject and engineering in general…. The course is a perfect balance of history, architecture, engineering, just enough math to understand essential concepts, and intrigue.

~Turtle1, Wyomissing, PA